Links
Klaus Dieter Kemp is a marvellous resource for impeccable quality research mounts
and also for arranged mounts of incredible complexity and genuine artistic merit.
He holds an enormous range of samples from named locations and collectors from which he prepares strew slides to order as well as type slides and selected species mounts.
His type slides greatly ease the burden of naming multiple taxa from a given location and are highly recommended.
His site is worth visiting if only to marvel at the Oamaru 'specials' and his 'Playdiatom' will raise a smile on even the most jaded of visages!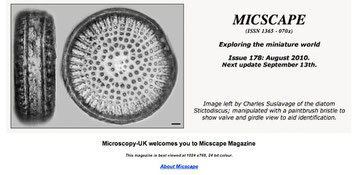 Developer of the essential mounting medium ZRAX and other interesting items.
Professor Dailey is interested in hearing from anyone with experience in cleaning diatoms using bleach - an option to using strong acids and corrosives which is well worth exploring.
A new website dedicated to the study of diatoms -- their systematics, biogeography, and ecology.