BUILDING THE KEMP MICROMANIPULATOR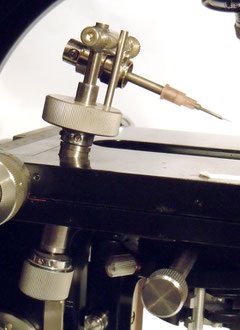 - an easily made version using two basic hand tools as well as a version with an upgraded barrel made using a lathe. The two barrels are interchangeable.
Selected species and type slides are made using either a 'hand seeker' or a micromanipulator. Whilst some workers possess the coordination and lack of hand tremor to able to use a hand seeker many of us are reliant on the use of a micromanipulator to arrange our diatoms.
I saw my first micromanipulator when Klaus Kemp demonstrated his simple but extremely well designed version as well as the fundamentals of making selected species mounts. I think Klaus is very proud of the confusion engendered in visitor's faces when they try to reconcile his extraordinary mounts with the 'much loved and well used' old Biolam, standing perched on an old box, his primary apparatus!
This article will describe the ready making of a manipulator, using inexpensive materials.
The first gallery below shows an overview of the manipulator mounted in an acrylic stand and the second illustrates it disassembled with part dimensions given in the titles.
This micromanipulator design is intended to be mounted in the stage itself as this gives significant ergonomic advantages. The manipulator control and microscope fine focus are in close proximity and after some familiarisation both controls can be used simultaneously with one hand.
Please, please, let us know if you build one and a photograph would be really appreciated!
COPYRIGHT AND LICENSING
The copyright for this version of the Kemp micromanipulator is owned exclusively by Diatoms Ireland and we freely grant a single manufacturing license to any individual wishing to build a manipulator for personal  or research use. Commercial exploitation of this design is expressly forbidden and will attract a design license fee of 250.00 euro for each device built without written permission.
Overview
Components