Strew coverslip holding and identifying plate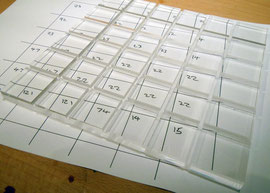 Making strew slides in larger quantities can be a little frustrating at times! Slow drying is preferable as is leaving the slips undisturbed to prevent clumping. This is a coverslip plate which addresses the issue of conveniently labelling slips with sample numbers as well as the issue of the inevitable mess if the meniscus of the sample on the slip breaks, usually flooding the other slips with contaminant.
This design allows the compromised slip to drain into the channels leaving the other coverslips completely undisturbed.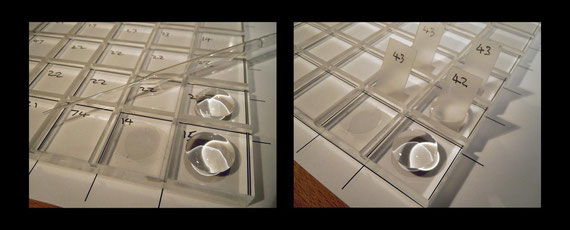 Two methods of labelling can be used, a preprinted paper grid which can be filled with sample numbers or codes and placed underneath the plate before preparing the slips, or alternatively, small plastic tabs cut up from a plastic binder cover and labelled with a marker. The tabs are placed in the grooves between slips; the writing is reasonably durable but wipes off readily for quick re-use.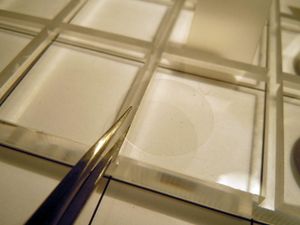 The coverslips are easily picked when the sample is dry by sliding to any adjacent groove.
The plate is made from 8mm or 10mm clear acrylic and is a grid of 3mm wide lines etched 4mm deep. Any sign maker or machine shop with a CNC router can easily make this up for you and a file is supplied below should you wish to make your own for private use. 
These are also available commercially and can be machined in any size or configuration. Useful sizes are 6 x 6 and 10 x 10. They can be supplied with covers that also enclose two sides allowing a slow evaporation of the sample with a typical drying time of 18 hours for a fully 'loaded' 19mm diameter slip under normal ambient conditions. 
Please use the contact form if you'd like a quotation.

Cover slip holder machining file
machine from 8mm or 10mm clear acrylic with 3mm deep engraves
coverslip template.eps
Encapsulated PostScript Image Format
335.9 KB
Coverslip labelling sheet
for placing under coverslip plate with sample numbers to identify samples on slips
coverslip labelling sheet.pdf
Adobe Acrobat Document
220.9 KB